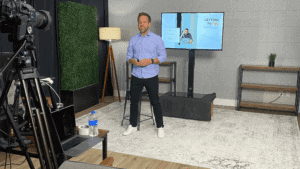 Every year, we host a Virtual Summit for the teams using our platform. It's a time for us to reflect, learn, collaborate, and grow! 
Of course, since 2020 has no semblance of normalcy anymore, we hosted it virtual for the first time. And while we missed being able to high five some of our favorite people, we were blown away by the participation and the fun that was still able to be had- even if it was hundreds of miles away from each other. Here are 5 key things we learned during our all-day session. 
Social Media isn't just about looking good 
We see it all the time. Memes, gifs, happy birthday cakes with weird filters. It's not hard to look at a social media profile and decide if it is visually appealing or not. But how often do we talk about whether a social media profile is impactful or not? 
During the user summit, just about every single speaker touched on the impact of social media. And not just to build a brand presence, but to get potential patients to view you as a trusted source. 
Jenn Rhoades, our CEO, walked us through how to maximize your instagram profile to get patients to take action. From having an easily accessible link added to your bio, to including easy-to-follow calls to actions in every single post, the copy in your post is just as important as your actual image. Gabe Kruse, our head of partnerships and a growth advisor to countless successful CEO's, dove into measuring your posts and listening to what your visitors are telling you. 
When leveraged properly and strategically, your social media is a tool to connect with the types of patients you want to work with. You just need to listen, and be willing to adapt. 
Effortless virtual consults require some effort
Our doctors and teams learned the step by step processes of creating the most impactful virtual consults. Spoiler alert: they're not hard at all. 
After working with tens of thousands of virtual consults, we've been able to see what converts and what doesn't. It typically all boils down to one thing: trust. 
From creating a great first impression with a well-lit background to show you put effort into the video, to empathizing with their specific issue, to using similar cases to build their trust in your ability to solve their specific problem, virtual consults are a way for you to create a personalized experience in way less time than a chair would take. 
Growth is a mindset 
The unfortunate truth about lead generation, patient growth, and practice success, is that it looks different for everyone. Your location, team size and bandwidth, technical prowess, and offerings all play a role in your success. Not to mention, sometimes sheer luck comes in too. 
Using a tool for growth also requires the desire to implement new strategies and techniques for growth. We heard from some of our top doctors, who talked about the things they put into play in order for virtual consults to jumpstart their practice. Whether it was learning the ropes of social media, or training a team member on recording virtual consults. Growth requires helpful tools, and a mindset ready for change. 
Now, enjoy some photos from our virtual photo booths! We love seeing so many happy faces, don't you?